30 Day Money Back Guarantee/Refund Policy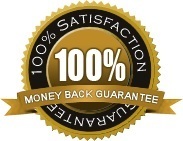 At Excelerated Learning, we want you to know that your business is appreciated and your purchase is 100% risk free.
If for any reason you decide you to opt out of one of our online training or certification preparation products, simply contact us within 30 days of signing up and we will promptly refund your purchase, no questions asked.
In order to qualify for a refund, the course must not have acheived at minimum 25% of the course completion or more than 25% of the videos watched.
Introduction
Excelerated Learning respects you and regards customer privacy as an important part of our relationship with our customers. The following privacy policy applies to all Exclerated Learning clients and conforms to Internet privacy standards.
If you have questions or concerns regarding this statement, please contact us first by phone or email.
Excelerated Learning only contacts individuals who request that we do so or in the event that they have signed up to receive our email communications or have purchased one of our products or services.
Collection of Information
My Online Training Hub collects personally identifying information from our users for course registrations, computer program testing, online purchasing and private coaching or on-site training purposes. Generally, this information includes our client's name and e-mail address, residential or business address and credit card information when purchasing our products or services. All of this information is provided to us by you.
All correspondence may also be collected and stored, particularly in regard to sales, support and accounts, including email and credit card details for a period of 30 to facilitate any price adjustments or refunds as required.
Use of Collected Information
This information is used for internal marketing purposes only. Excelerated Learning does not sell, exchange or release your personal information (name, e-mail address, mailing address, credit data, etc.) Your information is not shared with any other third party or company outside of billing and shipping purposes.
Any details collected from Excelerated Learning are intended to be kept on file for future business purchases and to provide a high level of customer service. All opt-in options to receive our monthly Newsletter that are sent to you by Excelerated Learning include an unsubscribe link in them. You can remove yourself at any time from our newsletters by clicking on the unsubscribe link. You can also contact us to change your information at any time.
We follow generally accepted industry standards to protect the personal information submitted to us, both during transmission and once we receive it.
If you have any questions about security on our Website, please contact us directly.
Access to Collected Information
If you would like to update the information on our database you can logon and update your profile in the Members Area, or contact us and we can do it for you.
Orders
If you purchase a product or service from us, we may request certain personally identifiable information from you. You may be required to provide contact information (such as name, Email, and postal address) and financial information (such as credit card number, expiration date).
We use this information for billing purposes and to fill customer orders. If we have trouble processing an order, we will use this information to contact you.
Third Parties
Excelerated Learning may at its discretion use other third parties to provide essential services on our site or for our business processes. We may share your details as necessary for the third party to provide that service.
These third parties are prohibited from using your personally identifiable information for any other purpose.
Excelerated Learning does not share any information with third parties for any unknown or unrelated uses.
Legal
We reserve the right to disclose your personally identifiable information as required by law and when we believe that disclosure is necessary to protect our rights and/or comply with a judicial proceeding, court order, or legal process served on our Website.
Changes to Privacy Policy
If we decide to change our privacy policy, we will post those changes to this privacy statement, the homepage, and other places we deem appropriate so that you are aware of what information we collect, how we use it, and under what circumstances, if any, we disclose it. We reserve the right to modify this privacy statement at any time, so please review it frequently. If we make material changes to this policy, we will notify you here, or by Email, or by means of a notice on our homepage.
Excelerated Learning Security Policy
Excelerated Learning uses reputable credit card processing service providers including Visa, M/C, Amex, Apple Pay, Google Pay, Shop Pay and Paypal for its online credit card transactions. These providers process online credit card transactions for millions of individuals and companies, providing a safe and secure means of collecting payments via the Internet.
• Payments are fully automated with an immediate response.
• Your complete credit card number cannot be viewed by any outside party.
• All transactions are performed using SSL encryption.
Delivery Policy
After ordering online, you will receive an email confirmation containing your order details (if you have provided your email address). We will normally confirm receipt of your order within a few minutes of ordering.
If you wish to query a purchase please contact us.
Cancellation Policy
You can cancel your membership at any time, by contacting us and making the request.